Contact Us
Phone: (631) 801-2855
Fax: (631) 325-2723
Email: info@linatives.com
Website: www.longislandnatives.com
Address: 220 Old Country Rd. Eastport, NY 11941
All visits by appointment only.


In botany, a sport or bud sport is a part of a plant that shows morphological differences from the rest of the plant.  Sports may differ by foliage shape or color, flowers, or branch structure.
Long Island Natives is metaphorically a sport of Country Gardens Nursery.  The latter being a well established wholesale grower based out of Eastport, NY and founded in 1947 by S. Robert "Bob" Gettinger.   The natives division of Country Gardens Nursery doing business as Long Island Natives was formally recognized in New York State in 2013 and is focused on growing native vegetation for use in the naturalized landscape.  Long Island Natives operates out of a 50 acre farm in Eastport, NY.  The business is co-owned and managed today by Brad Gettinger and Matthew Gettinger, the son and grandson of the late Bob Gettinger.  For more information regarding Long Island Natives please contact us via email at info@linatives.com.


What we Grow
As our admiration of the local flora flourishes, our production portfolio of native species continues to grow on a similar trajectory. Thanks for taking the time to look at this page - we hope you find what you're looking for and please call or write to tell us about your next native planting project. :)

Sizes We Grow:

Most of our native plants are grown for the restoration industry and therefore the majority of our plants are grown in smaller container sizes for ease of handling, shipping, and transplanting success.   Smaller sizes are also more "fiscally friendly" for jobs where funding is provided by non-profit organizations, government funding, etc...
Perennials & Grasses are typically grown in a trade 1 gallon container.   1 gallon containers are approx. 6 inches wide at the top of the container and approx. 7 inches deep.  These sizes may vary from manufacturer but this is the generally accepted size by the trade.   This size is ideal for planting directly into any size garden with ample roots per plant to facilitate a very high rate of transplant success.  Plants are considered to be saleable once the perennial or grass has "rooted" out its container and can be easily removed from the growing container with all soil intact.   As most perennials and grasses will become dormant during our winter months the top growth on the plant will vary with seasonality. 
LI Natives does offer smaller sizes on many different grasses and perennials for large scale projects requiring mass plantings of vegetation for restoration sites and/or erosion control projects.   2" Plugs are sold in flats of 50s or 72s and are available in season.   Plugs shall be sold in full flats of 50 or 72 as called per architectural specification.
Woody Trees & Shrubs are typically grown starting in a trade 2 gallon container and occasionally a trade 1 gallon container for slower growing species.   Depending on the growth rates of the shrub or tree, a 2 gallon plant will be considered ready once the plant has completely "rooted" out its growing container and has a desirable size above.  Typically, for most trees species this will equate to a tree that stands above the ground at a minimum of 2-3 ft. tall and no more than 5-6 ft. tall. depending upon the species.   For shrub species the size will vary, but will often be ready when the shrub has a desirable habit (multiple branches, branchlets); a full root system and is often between 1 ft. to 2 ft. in height.
LI Natives does offer larger size for many woody trees and shrubs, please be sure to ask for a current inventory for larger container material.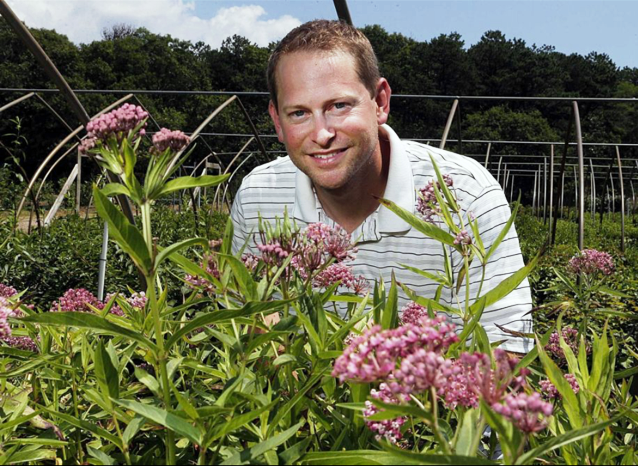 Photo Credit: Joseph D. Sullivan